Feature of Duplicate Photo Finder Plus - Supports all Common Picture Types (1000+ Types)
On the main interface of our
delete duplicate photos
tool, you can select type(s) to search: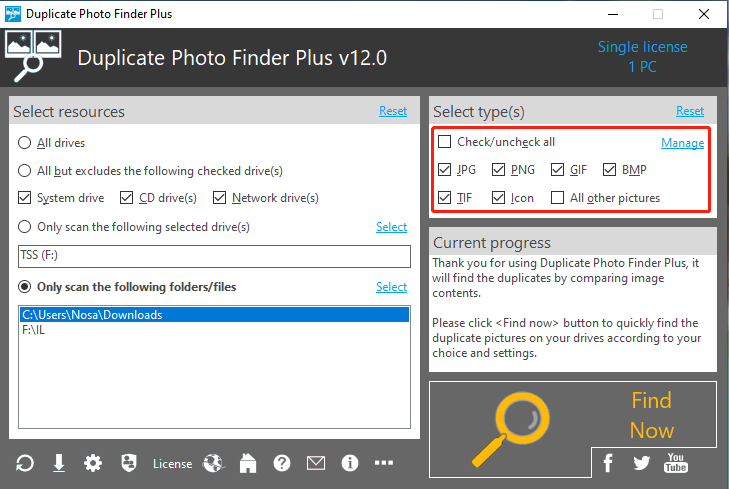 Screenshot A: select picture type(s) in our finding duplicate pictures software.
At first glance, it seems that only a few types are supported, but it is not the case.
First, each big type already contains several formats, e.g. JPG contains .jpg.jpeg.jpe.j, TIF contains .tif.tiff, etc. And, click the "Manage" link, you will see the following interface: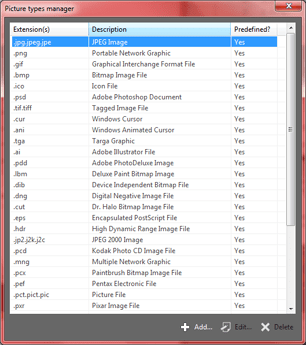 Screenshot B: picture types manager of our finding duplicate pictures application.
This is a list of default picture types supported by our product, there are more than thousand of types in total as follows:
P:JPEG Image:jpg.jpeg.jpe.j|P:Portable Network Graphic:png|P:Graphical Interchange Format File:gif|P:Bitmap Image File:bmp|P:Icon File:ico.icon|P:Adobe Photoshop Document:psd|P:Tagged Image File:tif.tiff|P:Windows Cursor:cur|P:Windows Animated Cursor:ani|P:Targa Graphic:tga|P:Adobe Illustrator File:ai|P:Adobe PhotoDeluxe Image:pdd|P:Deluxe Paint Bitmap Image:lbm|P:Device Independent Bitmap File:dib|P:Digital Negative Image File:dng|P:Dr. Halo Bitmap Image File:cut|P:Encapsulated PostScript File:eps|P:High Dynamic Range Image File:hdr|P:JPEG 2000 Image:jp2.j2k.j2c|P:Kodak Photo CD Image File:pcd|P:Multiple Network Graphic:mng|P:Paintbrush Bitmap Image File:pcx|P:Pentax Electronic File:pef|P:Picture File:pct.pict.pic|P:Pixar Image File:pxr|P:Portable Pixmap Image File:ppm|P:Misc. Camera RAW File:raw.mos.mrw.nef.orf.dcr.crw.raf.srf.mfw.cr2.arw.nrw.rwz.k25.ari.rw2.3fr.fff.mef.bay.sr2.srw.j6i.rwl.cr3.kdc.x3f.erf.cs1.iiq.cxi|P:Run Length Encoded Bitmap:rle|P:Scitex Continuous Tone File:sct|P:Silicon Graphics Image File:sgi|P:Sun Raster Graphic:ras|P:Targa Bitmap Image File:vda|P:Targa ICB Bitmap Image:icb|P:Wireless Bitmap Image File:wbm.wbmp|P:X11 Graphic:xbm.xpm|P:Enhanced Image Package File:eip|P:360 Desktop Panorama File:360|P:Mavica Thumbnail Image:411|P:Fax File:001|P:Pocket PC Bitmap Image File:2bp|P:Stereo CAD-3D Image File:3d|P:Stereo CAD-3D 2.0 Image File:3d2|P:Stereo CAD-3D 2.0 Image File:3d4|P:3D Assembly File:3da|P:3DCrafter Scene / 3DCT 3D Image File :3dc|P:3D Format:3df|P:LightConverse 3D Model File:3dl|P:Rhino 3D Model:3dm|P:QuickDraw 3D Metafile:3dmf|P:123D Make Project File:3dmk|P:Scrutinize 3D Mesh File:3don|P:123D Catch Photo Scene Data File:3dp|P:3D Studio Scene:3ds|P:3D VRML World:3dv|P:3D World Studio File:3dw|P:Rhino 3D Model File:3dx|P:Dassault Systemes 3D XML File:3dxml|P:3D Manufacturing File:3mf|P:TI-73 Screenshot File:73i|P:TI-84 Plus C Image Var Format:8ca|P:TI-84 Plus C Pic Vars Format:8ci|P:Adobe Photoshop Macintosh File:8pbs|P:TI-83/84 Plus Picture File:8xi|P:Alice Object File:a2c|P:Alternativa Player 3D Export File:a3d|P:Anim8or Script:a8s|P:Micrografx ABC FlowCharter 6 File:abc|P:Photo Album:abm|P:ArtCut 5 Document:ac5|P:ArtCut 6 Document:ac6|P:Windows 8 Account Picture File:accountpicture-ms|P:Acorn Image:acorn|P:American College of Radiology File:acr|P:Genesis3D Actor File:act|P:Scanstudio 16 Color Image:adc|P:Micrografx ABC FlowCharter 2 File:af2|P:Micrografx ABC FlowCharter 3/4 File:af3|P:Affinity Design Document:afdesign|P:Affinity Photo Document:afphoto|P:Auto FX PhotoGraphic Edges Image:afx|P:Active GIF Creator Project:agif|P:ArtGem Project File:agp|P:Advanced Image Coding File:aic|P:ACDSee Image Sequence File:ais|P:HP Photo Printing Software Album File:albm|P:GLC_Player Album File:album|P:Amadine Drawing:amdn|P:Additive Manufacturing File:amf|P:Anim8or File:an8|P:Maya / Unity / Antibody Animation File:anim|P:FaceFX Animation Set File:animset|P:FaceFX In-Game Animation Set File:animset_ingame|P:3D Animation File:anm|P:Artlantis Object File:aof|P:Art of Illusion 3D Scene:aoi|P:ACDSee Photo Document:apd|P:Aldus Placeable Metafile Image:apm|P:Animated Portable Network Graphic:apng|P:Greeting Card Studio Project File:aps|P:Ability Photopaint Studio Image:apx|P:Amber Graphic File:arr|P:AOL Compressed Image File / Art Document:art|P:Artboard Document:artb|P:ArtStudio Image:artwork|P:Assemble SAT 3D Model File:asat|P:Aseprite Sprite File:ase|P:Aseprite Sprite File:aseprite|P:Asymptote Module:asy|P:Alternativa Texture File:atf|P:Artlantis 3D Scene File:atl|P:Vue Atmospheres File:atm|P:Google Talk Avatar File:avatar|P:Microsoft Comic Chat Character:avb|P:Microsoft Fax / Artweaver Document:awd|P:Ability Draw Document:awg|P:Blitz3D Entity Model File:b3d|P:Mudbox Bio 3D File:bio|P:Character Studio Biped File:bip|P:Skyscraper Simulator Building Script:bld|P:Blender 3D Data File:blend|P:BLK360 Data File:blk|P:Block Artist Image File:blkrt|P:Compressed Bitmap Image:blz|P:Subspace Bitmap File:bm2|P:Bitmap Cache File:bmc|P:Binary Material File:bmf|P:Re-Volt Mipmap File:bmq|P:Siemens Mobile Animations File:bmx|P:Compressed Bitmap Image:bmz|P:BPG Image:bpg|P:Bryce 3 Scene File:br3|P:Bryce 4 Scene File:br4|P:Bryce 5 Scene File:br5|P:Bryce 6 Scene File:br6|P:Bryce 7 Scene File:br7|P:Age of Mythology Model File:brg|P:Brooktrout Fax Document:brk|P:Cube Graphics File:brn|P:Broadleaf Tree Model:bro|P:Bryce Textures File:brt|P:Bryce Skies File:bsk|P:Resident Evil Background Images File:bss|P:Nintendo Texture File:bti|P:Bryce Tree File:bto|P:Biovision Hierarchy Animation File:bvh|P:Black and White SGI Image File:bw|P:C3D Model File:c3d|P:OpenQwaq 3D Model File:c3z|P:JEDMICS Image File:c4|P:Cinema 4D Model File:c4d|P:Cal3D Binary Animation File:caf|P:ClipArt Gallery Package:cag|P:3ds Max Pose Adjustment File / CryENGINE Character Animation List / CALS Raster Graphic:cal|P:CALS Raster Graphic File:cals|P:CASIO Digital Camera Picture File:cam|P:Canon Navigator Fax Document:can|P:Total War Model File:cas|P:CopperCube 3D Scene:ccb|P:CopperCube JavaScript File:ccp|P:Corel Clipart File:ccx|P:Chasys Draw Image File:cd5|P:AutoCAD DesignCenter Preview Cache File:cdc|P:ConceptDraw PRO Document:cdd|P:ConceptDraw PRO Document:cddz|P:Compact Disc Plus Graphics Image:cdg|P:ConceptDraw PRO XML Library File:cdlx|P:ConceptDraw MINDMAP Document:cdmm|P:ConceptDraw MINDMAP Template:cdmt|P:Compressed ConceptDraw MINDMAP Template:cdmtz|P:Compressed ConceptDraw MINDMAP Document:cdmz|P:CorelDRAW Image File:cdr|P:CorelDRAW.app Image File:cdrapp|P:ConceptDraw SlideShow:cds|P:ConceptDraw PRO XML SlideShow File:cdsx|P:ConceptDraw PRO Template:cdt|P:ConceptDraw PRO XML Template:cdtx|P:CorelDRAW Compressed File / ConceptDraw PRO XML Document:cdx|P:ComputerEyes Image:ce|P:Cal3D Model Configuration File:cfg|P:Cg Program:cg|P:Cabri 3D Document:cg3|P:Crytek Geometry Animation File:cga|P:CgFX Shader File:cgfx|P:Computer Graphics Metafile:cgm|P:CryENGINE / 3ds Max Characters File:chr|P:CryENGINE Character Parameters File:chrparams|P:Navigator Chart Image Description File:cid|P:Clip Gallery Packaged File:cil|P:CImg Image File:cimg|P:Kodak Cineon Bitmap File:cin|P:Intergraph Bitmap Image File:cit|P:Clarify Document:clarify|P:Clip Studio Format File:clip|P:Poser Camera Set File:cm2|P:Cal3D Binary Mesh File:cmf|P:Celestia Model:cmod|P:U.S. Sectional Chart Map File:cmr|P:Car Mechanic Simulator 3D Car Model File:cms|P:Corel Metafile Exchange Image File:cmx|P:Compressed Poser Camera Set File:cmz|P:Canvas 6-8 Drawing File:cnv|P:Adobe Collage File:colz|P:CorelDRAW Drawing:cor|P:iOS Wallpaper Image:cpbitmap|P:CPC Compressed Image File:cpc|P:Compressed PhotoDefiner Image File:cpd|P:Manga Studio Page File:cpg|P:Corel Photo House File:cps|P:Corel PHOTO-PAINT Image:cpt|P:Corel CMX Compressed File:cpx|P:3ds Max Copy Track File:cpy|P:Cal3D Binary Materials File:crf|P:Compressed Poser Character Rigging File:crz|P:Manga Studio Scene File:csd|P:Cal3D Binary Skeleton File / Content Sealed Format:csf|P:Character Studio Marker File:csm|P:Compiled Shader Object File:cso|P:Canvas Symbol File:csy|P:Scitex Continuous Tone File:ct|P:Canvas 5 Drawing File:cv5|P:Calamus Vector Graphic File:cvg|P:Canvas Image File:cvi|P:Canvas 3 Drawing File:cvs|P:Canvas Drawing File:cvx|P:ClarisWorks Texture File:cwt|P:Coordinates Export Format:cxf|P:Game Maker 3D File:d3d|P:Digital Asset Exchange File:dae|P:DAZ Studio 3D Scene:daz|P:DAZ Brick Camera File:dbc|P:DAZ Brick Light File:dbl|P:DAZ Brick Material File:dbm|P:GAMBIT Mesh File:dbs|P:Kodak Photo-Enhancer File:dc2|P:DICOM Image:dcm|P:Desktop Color Separation File:dcs|P:Zsoft Multi-Page Paintbrush File:dcx|P:Device Dependent Bitmap:ddb|P:GLBasic 3D Data File:ddd|P:ClarisDraw Drawing:ddrw|P:DirectDraw Surface:dds|P:Age of Mythology Textures File:ddt|P:Dr. Engrave Document:ded|P:Corel Designer File:des|P:Microsoft Expression Design Drawing:design|P:RenderWare Model File:dff|P:BrainSuite Surface File:dfs|P:DST Thumbnail File:dgt|P:HyperSnap Drawing:dhs|P:Dia Diagram File:dia|P:DICOM Image:dic|P:DICOM Image File:dicom|P:Torque Game Engine Model File:dif|P:DiMAX Firmware Image File:dimax|P:DjVu Image:djv|P:DjVu Image:djvu|P:DigitalMicrograph Image:dm3|P:Mimic Configuration File:dmc|P:BYOND Dream Maker Icon File:dmi|P:Adobe Dimension Document:dn|P:DrawPlus Drawing File:dpp|P:Digital InterPlot File:dpr|P:Digital Picture Exchange File / DrawPlus Template:dpx|P:Artboard Drawing:drawing|P:DrawIt Drawing:drawit|P:VIZ Render File:drf|P:(Corel) Drawing File:drw|P:Draz Paint File:drz|P:DAZ Studio 1/2 Script:ds|P:DAZ Studio 3+ Script:dsa|P:DAZ Studio Binary Script:dsb|P:DAZ Studio Object Morph File:dsd|P:DAZ Studio Encrypted Script:dse|P:DAZ Studio Asset File / Designer File:dsf|P:Stitch Era Design File:dsg|P:DAZ Studio Layered Image Set / Double-Precision Spectral Image:dsi|P:DAZ Studio Object File:dso|P:DAZ Studio UV Mapping File:dsv|P:Windows Live Messenger Emoticon Image File:dt2|P:Desktop Wallpaper:dtw|P:DAZ User File:duf|P:Dalim Virtual Library File:dvl|P:Design Web Format File:dwf|P:Drawing Exchange Binary:dxb|P:LIDAR Point Cloud Data File:e57|P:Enhanced Compression Wavelet Image:ecw|P:EximiousSoft GIF Creator Document:egc|P:Panda3D Model File:egg|P:Enhanced Windows Metafile:emf|P:Windows Compressed Enhanced Metafile:emz|P:Pencil Document:ep|P:Canon Easy-PhotoPrint Image File:epp|P:Encapsulated PostScript Format File:epsf|P:EasySignCut Pro Project:esc|P:CATIA 4 Export File:exp|P:OpenEXR Image:exr|P:EazyDraw Graphic:ezdraw|P:Fusion 3D Design:f3d|P:FACE Image File:fac|P:FACE Graphic File:face|P:FaceFX Actor File:facefx|P:FaceFX In-Game Actor File:facefx_ingame|P:Bitmap Graphic Header Information:fal|P:Fax Document:fax|P:Marine Vessel Model File / Fuzzy Bitmap Image:fbm|P:Autodesk FBX Interchange File:fbx|P:Poser Face Pose File:fc2|P:Phantasy Star Online 2 Female Cast File:fcp|P:Compressed Poser Face Pose File:fcz|P:FaceGen Project File:fg|P:FreeHand 10 Drawing File:fh10|P:FreeHand 11 Drawing File:fh11|P:FreeHand 3 Drawing File:fh3|P:FreeHand 4 Drawing File:fh4|P:FreeHand 5 Drawing File:fh5|P:FreeHand 6 Drawing File:fh6|P:FreeHand 7 Drawing File:fh7|P:FreeHand 8 Drawing File:fh8|P:FreeHand 9 Drawing File:fh9|P:FreeHand Drawing File:fhd|P:Fractal Image File:fif|P:3ds Max Figure File / Xfig Drawing:fig|P:Symbian Application Logo File:fil|P:Flexible Image Transport System File:fits|P:Free Lossless Image Format File:flif|P:OpenFlight Scene Description File:flt|P:Frame Vector Metafile:fmv|P:Vue Functions File:fnc|P:Fragment Program File:fp|P:FloorPlan 3D Design File:fp3|P:FPS Creator Entity File:fpe|P:IKEA Home Planner File:fpf|P:Fenix Graphics Collection File:fpg|P:CryENGINE Facial Editor Project File:fpj|P:Photo Pos Pro Image:fpos|P:Microsoft Fresh Paint Painting File:fppx|P:FlashPix Bitmap Image File:fpx|P:Painter Frame Stack File:frm|P:fryrender Scene File:fry|P:FlexiSIGN Document:fs|P:Fragment Shader File:fsh|P:CryENGINE Facial Editor Sequence File:fsq|P:FreeHand 10 Drawing Template:ft10|P:FreeHand 11 Drawing Template:ft11|P:FreeHand 7 Drawing Template:ft7|P:FreeHand 8 Template:ft8|P:FreeHand 9 Drawing Template:ft9|P:Flowton Diagram File:ftn|P:Cubify Invention File:fun|P:Adobe Fuse 3D Model:fuse|P:Direct3D Effects File:fx|P:OC3 Entertainment FaceFX Actor File:fxa|P:Flash XML Graphics File:fxg|P:CryENGINE Facial Expression Library:fxl|P:messiahStudio Motion File:fxm|P:messiahStudio Scene File:fxs|P:FaceFX Actor Template File:fxt|P:CCITT Group 3 Fax Image:g3|P:GIMP Brush File:gbr|P:Greeting Card Studio Design Project:gcdp|P:Google Drive Drawing:gdraw|P:GEM Metafile:gem|P:VRML Geography File:geo|P:GIFBlast Compressed Image File:gfb|P:Greenfish Icon Editor Pro Graphic:gfie|P:GIMP Gradient File:ggr|P:GIMP Image Hose File:gih|P:PlayStation Portable Image File:gim|P:Graphics Kernel System File:gks|P:Binary GL Transmission Format File:glb|P:Space Engine Shader File:glf|P:Ghoul 2 Model File:glm|P:Microsoft Office SmartArt Graphics Layout File:glox|P:Sothink SWF Easy Shape File:gls|P:GL Transmission Format File:gltf|P:Game Maker Background Image File:gmbck|P:Leadwerks Game Model File:gmf|P:Game Maker 3D Model File:gmmod|P:Game Maker Sprite File:gmspr|P:rFactor Model File:gmt|P:CCITT Group 4 Fax File:gp4|P:Graphic PhotoDefiner Image File:gpd|P:OmniGraffle Drawing:graffle|P:Granny 3D File:grn|P:Graphic Object Bitmap:gro|P:Graphic Object Bitmap File:grob|P:Grayscale Image:gry|P:Graphtec Vector Graphics File:gsd|P:OmniGraffle Stencil:gstencil|P:OmniGraffle Template:gtemplate|P:Gravit Designer File:gvdesign|P:Poser Hand Pose File:hd2|P:HD Photo File:hdp|P:HDRtist Pro Document:hdrp|P:Compressed Poser Hand Pose File:hdz|P:High Efficiency Image Format:heic|P:High Efficiency Image Format:heif|P:HF Image:hf|P:HP Graphics Language File:hgl|P:Houdini Project File:hip|P:Houdini Apprentice File:hipnc|P:High Level Shader Language File:hlsl|P:HPGL Plot File:hpg|P:HP Graphics Language Plotter File:hpgl|P:Hemera Photo Objects Image File:hpi|P:HP-GL Plotter File:hpl|P:TRS-80 Image:hr|P:Poser Hair File:hr2|P:Hitachi Raster Format File:hrf|P:Compressed Poser Hair File:hrz|P:Haiku Vector Icon File:hvif|P:Hexagon Model File:hxn|P:Houdini Image 3D File:i3d|P:Low Resolution Imagic Graphics File:ic1|P:Medium Resolution Imagic Graphics File:ic2|P:High Resolution Imagic Graphics File:ic3|P:Image Object Content Architecture File:ica|P:Windows Icon Library File:icl|P:Windows Icon File:icn|P:macOS Icon Resource File:icns|P:IconPackager Theme File:iconpackage|P:IconUtils Project File:icpr|P:Adobe Ideas Document:idea|P:Industry Foundation Classes File:ifc|P:IGES Drawing File:iges|P:Indigo Image File:igi|P:Indigo Renderer Material File:igm|P:Indigo Renderer Scene File:igs|P:iGrafx Document Template:igt|P:iGrafx Document:igx|P:CryENGINE IK Animation File:ik|P:Interleaved Bitmap Image:ilbm|P:Microsoft VisioModeler File:imd|P:GEM Image:img|P:JFIF Bitmap Image:imj|P:ZoomBrowser Image Index File:info|P:Pantone Reference File / InkML Image / Pocket PC Handwritten Note:ink|P:Insta360 Panoramic Image:insp|P:SGI Integer Image:int|P:iPhoto Print Project:iphotoproject|P:iPick Football Image:ipick|P:IconPackager Raw Theme File:iptheme|P:IPIX Image:ipx|P:Irrlicht 3D Scene:irr|P:Irrlicht Static Mesh File:irrmesh|P:iTunes Cover Flow Data File 2:itc2|P:iPod and iPhone Photo Thumbnails File:ithmb|P:Open Inventor Scene Graph File:iv|P:OpenSceneGraph Binary File:ive|P:Image Worlds File:ivr|P:Live Picture IVUE Image:ivue|P:Infinity Ward Texture File:iwi|P:jMonkeyEngine 3D Scene:j3o|P:Paint Shop Pro Compressed Graphic / Cheetah3D Model File:jas|P:JBIG2 Image:jb2|P:Paint Shop Pro Browser Cache File:jbf|P:Joint Bi-level Image Group File:jbg|P:Joint Bi-level Image Group File:jbig|P:JBIG2:jbig2|P:JAmes OS Bitmap Image:jbmp|P:Paint Shop Pro Brushes File:jbr|P:JPEG File Interchange Image:jfi|P:JPEG File Interchange Format:jfif|P:Digital Photo Navigator Album:jia|P:JPEG Interchange Format Image:jif|P:JPEG Image File Format:jiff|P:JPEG Network Graphic:jng|P:JPEG 2000 Code Stream File:jpc|P:Joint PhotoDefiner Image:jpd|P:JPEG 2000 Image:jpf|P:JPEG 2000 Image:jpg2|P:Large JPEG Image:jpg-large|P:Stereo JPEG Image:jps|P:JPEG 2000 Image File:jpx|P:Corel PaintShop Pro Shape Library:jsl|P:JPEG Tagged Interchange Format:jtf|P:Roxio Jewel Case File:jwl|P:JPEG XR Image:jxr|P:KD Player Skin Image File:kdi|P:Kodak Proprietary Decimated TIFF File:kdk|P:Gamebryo 3D Model File:kfm|P:Kofax Image File:kfx|P:Kodak Compressed Image File:kic|P:Kinemac Animation File:kmc|P:Kinemac Sprite Object:kmcobj|P:Kodak Photo CD File:kodak|P:Kai's Power Goo Graphic:kpg|P:Krita Image Document:kra|P:Kahootz Project File:ktz|P:Lens Blur Project File:lb|P:VolumeViz Multi-Resolution Volume File:ldm|P:Leica Image File:lif|P:Clip Studio Paint File:lip|P:Lossless JPEG Image:ljp|P:Linden Lab Mesh File:llm|P:Sothink Logo Maker Image:lmk|P:3D Landscape File:lnd|P:Lightscape Preparation File:lp|P:Bryce Leaf Shape File:lps|P:Adobe Lightroom Preview File:lrpreview|P:Poser Light Set File:lt2|P:Compressed Poser Light Set File:ltz|P:LightWave 3D Object File:lwo|P:LightWave 3D Scene File:lws|P:LEGO Digital Designer Model File:lxf|P:Luxology modo 3D Image:lxo|P:LazPaint Image:lzp|P:Blizzard MDX3 Model File:m3|P:3D Model / DIALux 3D Object File:m3d|P:Maya Project File:ma|P:MacPaint Image:mac|P:MakerBot Print File:makerbot|P:3ds Max / Vue Materials File:mat|P:3ds Max Scene File / PaperPort Scanned Document:max|P:3ds Max Container File:maxc|P:Maya Binary Project File:mb|P:Multi Bitmap File / Kerbal Space Program Texture File:mbm|P:Poser 5 Material File:mc5|P:Poser Material Collection File:mc6|P:Mathcad Image:mcs|P:Compressed Poser Material File:mcz|P:id Tech 4 Model Animation File:md5anim|P:id Tech 4 Model Camera File:md5camera|P:id Tech 4 3D Mesh File:md5mesh|P:Point Oven Deformation Data File:mdd|P:Warcraft 3 3D Model Text File:mdl|P:FireAlpaca / MediBang Paint Pro Image:mdp|P:Warcraft 3 Model File:mdx|P:PRO100 3D Interior Catalog Element:meb|P:Godot Engine 3D / DirectX Mesh File / 3D Mesh Model:mesh|P:Presentation Manager Metafile:met|P:Microsoft Clip Organizer Media Catalog:mgc|P:Equation Illustrator Project File:mgcb|P:Materials and Geometry Format:mgf|P:MindGenius Map File:mgmf|P:MindGenius 2-3 Template:mgmt|P:MindGenius XML Map File:mgmx|P:MGCSoft Vector Shapes File:mgs|P:MindGenius XML Template File:mgtx|P:Image Composer File:mic|P:Magick Image File:miff|P:Multiple Image Print File:mip|P:Mipmap Texture File:mipmaps|P:3ds Max Motion Mixer / Microsoft Image Exchange File:mix|P:MindManager Map Template:mmat|P:Character Studio Marker Name File:mnm|P:AutoCAD Menu Resource File:mnr|P:LightWave Motion File:mot|P:Maya PLE Project / LaTeX MetaPost File:mp|P:Microsoft Media Package FIle:mpf|P:messiahStudio Project File:mpj|P:Multi Picture Object File:mpo|P:Metasequoia Document:mqo|P:Multiple Resolution Bitmap File:mrb|P:3D Slicer Scene Description File:mrml|P:MIRAX Virtual Slide File:mrxs|P:MilkShape 3D Model:ms3d|P:Orbiter / Godot Engine 3D Mesh File:msh|P:Paint Shop Pro Mask File:msk|P:Microsoft Paint Bitmap Image:msp|P:OBJ Material File:mtl|P:MetaStream Scene File:mtx|P:Compressed MetaStream Scene File:mtz|P:Kerbal Space Program Mesh File:mu|P:Mudbox 3D Scene File:mud|P:Magick Vector Graphics File:mvg|P:Maxwell Image:mxi|P:Maxwell Material File:mxm|P:Maxwell Studio Scene File:mxs|P:MyLogo Maker Image:myl|P:Nitrous Minecraft GLSL Shader File:n2|P:Nuclear 3D File:n3d|P:NAP Metafile:nap|P:Nero CoverDesigner File:ncd|P:NCR Image:ncr|P:Nero CoverDesigner Template:nct|P:NeoChrome Bitmap Image:neo|P:Neutral File Format:nff|P:Gamebryo Model File:nif|P:Nokia Logo File:nlm|P:Space Engine Nebula Model File:nm|P:Nokia Operator Logo File:nol|P:Nintendo DS Texture Animation File:nsbta|P:Sony NWM Display Screen File:nwm|P:Wavefront 3D Object File:obj|P:Bryce Object File:obp|P:Compressed 3D Object File:obz|P:openCanvas 3 Event File:oc3|P:openCanvas 4 Event File:oc4|P:openCanvas 5 Event File:oc5|P:openCanvas Image:oci|P:Radiance Octree File:oct|P:OpenDocument Graphic File:odg|P:OpenDocument Image:odi|P:Object File Format:off|P:S.T.A.L.K.E.R. Model File:ogf|P:Valve Hammer Object Layout File:ol|P:OMF Interchange Image File:omf|P:Nokia Operator Logo File:oplc|P:OpenRaster Image File:ora|P:OTA Bitmap Image:ota|P:Nokia Over The Air Bitmap Image:otb|P:OpenDocument Graphic Template:otg|P:OpenDocument Image Template:oti|P:The Overlay Maker Package File:ovp|P:The Overlay Maker Overlay File:ovr|P:MU Online Image File:ozb|P:MU Online Image File:ozj|P:MU Online Image File:ozt|P:Express STEP Data Model File:p21|P:Compressed Poser Pose File:p2z|P:Peak3D 3D Graphics File:p3d|P:Adobe Photoshop Light Preset File:p3l|P:Adobe Photoshop Material Preset File:p3m|P:Adobe Photoshop Render Settings Preset File:p3r|P:Pix4D Project:p4d|P:Planner 5D Project:p5d|P:STAD Graphic File:pac|P:Dr. Halo Color Palette File:pal|P:Camera Panoramic Picture:pano|P:PanoramaStudio Project File:pap|P:Solid Edge Part File:par|P:3D Patch / (CorelDRAW) Pattern File:pat|P:Portable Bitmap Image:pbm|P:Degas Elite Low Res Image File:pc1|P:Degas Elite Medium Res Image File:pc2|P:Degas Elite High Res Image File:pc3|P:Microsoft Office ClipArt File:pcs|P:FlexiSIGN 5 Plotter Document:pd|P:paint.net Image File:pdn|P:Photo Explorer Thumbnail / PhotoImpact Image Archive:pe4|P:Logitech io2 Drawing:pen|P:Micrografx Optima! File:pfd|P:PhotoFiltre Studio Image:pfi|P:Paint Shop Pro Picture Frame File:pfr|P:PhotoFiltre Studio Vectorial Path:pfv|P:Photo! 3D Album Gallery:pgal|P:Progressive Graphics File:pgf|P:Portable Gray Map Image:pgm|P:3ds Max Physique File:phy|P:Degas Low Resolution Image File:pi1|P:Portrait Innovations Photo / Degas Medium Resolution Image File:pi2|P:Degas High Resolution Image File:pi3|P:DEGAS Image:pi4|P:DEGAS Bitmap Image:pi5|P:DEGAS Bitmap Image File:pi6|P:Houdini 3D Compositing Image:picnc|P:Picture Clipping File:pictclipping|P:Packaged Indigo Renderer Material File:pigm|P:Packaged Indigo Renderer Scene File:pigs|P:Piskel Sprite:piskel|P:BRL-CAD Raw / Alias PIX Image File:pix|P:Pixadex Icon:pixadex|P:Pixela Project:pixela|P:Progressive JPEG Image:pjp|P:Progressive JPEG Image:pjpeg|P:Progressive JPEG Image:pjpg|P:Midtown Madness 2 Model / CoCreate OneSpace Modeling Package File:pkg|P:Unix Color Plot File:pl|P:3D Home Architect Foundation Floor Plan:pl0|P:3D Home Architect Floor Plan:pl1|P:3D Home Architect Second Level Floor Plan:pl2|P:HPGL Plot File / AutoCAD Plotter Document:plt|P:Polygon Model File:ply|P:Unix XV Graphic File:pm|P:PageMaker 3 Document:pm3|P:Poser Binary Morph / MikuMikuDance Model File:pmd|P:Adobe Photoshop Photomerge Panoramic Composition / PageMaker Group File:pmg|P:MikuMikuDance Model File:pmx|P:Panasonic Network Camera Image:pnc|P:Popnoggin Image File:pni|P:Portable Any Map Image:pnm|P:PNG Stereo Image:pns|P:MacPaint File:pnt|P:MacPaint Graphic File:pntg|P:Photo Pos Pro Vector Object File:pobj|P:Samsung Popcon Character File:pop|P:POV-Ray Raytracing Format / Prolab Object File:pov|P:Poser Prop File:pp2|P:Picture Publisher Bitmap File:pp4|P:Picture Publisher 5 Image File:pp5|P:Picture Publisher Image File:ppf|P:Compressed Poser Prop File:ppz|P:Product Representation Compact File:prc|P:Unity Prefab File:prefab|P:World of Tanks 3D Model File:primitives|P:World of Tanks 3D Model File:primitives_processed|P:Re-Volt Model File:prm|P:TurboFloorPlan 3D Design File / Professional Home Design Project:pro|P:Vue Preview File:prv|P:Artlantis Shader Preview File:prw|P:PostScript File:ps|P:Unreal Engine Skeletal Animation File:psa|P:Photoshop Large Document Format:psb|P:Adobe Photoshop Cloud Document:psdc|P:Photoshop Touch Document:psdx|P:Photoshop Elements Photo Project:pse|P:PhotoStudio File:psf|P:PostScript Image Data File:psid|P:Unreal Engine Skeletal Mesh File:psk|P:PaintShop Pro Image File:psp|P:PaintShop Pro Brush File:pspbrush|P:PaintShop Pro Image:pspimage|P:Ptex Texture File:ptex|P:ArtRage Painting:ptg|P:Puntotek Embroidery Design File:ptk|P:PTGui Project File:pts|P:Pentax RAW Image / Paint Shop Pro Texture File:ptx|P:Adobe Character Animator Puppet File:puppet|P:POWERVR Texture File:pvr|P:PhotoWorks Image File:pwp|P:Print Workshop Image:pws|P:Pixel Image File:px|P:Pixlr Layered Image:pxd|P:CandyBar Icon:pxicon|P:Pixelmator Image File:pxm|P:Pyxel Image Document:pyxel|P:Poser Pose File:pz2|P:Poser Scene File:pz3|P:PhotoSuite Album File:pza|P:PhotoSuite Project File:pzp|P:PhotoSuite Slide Show File:pzs|P:Compressed Poser Scene File:pzz|P:Half-Life Model Compiler Script:qc|P:Quilt Manager Pattern File:qcc|P:QuickTime Image File:qif|P:Samsung Theme Graphics File:qmg|P:QuickTime Image File:qti|P:QuickTime Image File:qtif|P:RISA-3D Model File:r3d|P:VRAD Lights / Radiance Scene File:rad|P:Rayshade Image:ray|P:Recolored Project File:rcl|P:RandomControl Scene File:rcs|P:RealWorld Layered Cursor Image:rcu|P:MicroStation Redline File:rdl|P:Ray Dream Studio Scene File:rds|P:Revit Family Template File:rft|P:RGB Bitmap / Q0 Image File:rgb|P:RGB Bitmap:rgba|P:LEGO MINDSTORMS EV3 Robot Graphics File:rgf|P:NXT Image File:ric|P:Painter Raster Image File:rif|P:Painter Raster Image:riff|P:Antibody Model Rig File:rig|P:ColoRIX Image:rix|P:RealWorld Graphics Layered Image:rli|P:Rich Pixel Format File:rpf|P:RealWorld Image:rri|P:Sun Raster Graphic:rs|P:Red Storm Bitmap File:rsb|P:Poser Model Preview File:rsr|P:Raster Transfer Language File:rtl|P:RVG X-ray Image:rvg|P:Microsoft Train Simulator Shape File:s|P:StarCraft 2 Map Preview File:s2mv|P:MakerBot 3D Print File:s3g|P:PaintTool SAI Image:sai|P:Saracen Paint Image:sar|P:Sketchbook Express iCloud Image:sbp|P:Substance Archive:sbsar|P:SimCity 4 Model File:sc4model|P:ColoRIX Image File:scg|P:ColoRIX Graphics Image:sci|P:TreePaint Image:scn|P:ColoRIX Bitmap Graphic File:scp|P:ColoRIX Bitmap Image:scu|P:ScanVec CASmate Sign File:scv|P:StarOffice Drawing:sda|P:SAP2000 Model File:sdb|P:SmartDraw Drawing:sdr|P:Separated Image File:sep|P:CATIA 4 Session File:session|P:Motic Microscope Image:sfc|P:Structured Fax File:sff|P:Seattle FilmWorks Image:sfw|P:GeneSnap Image File:sgd|P:Signet Bureau DRM File:sgn|P:Sweet Home 3D Design File:sh3d|P:Sweet Home 3D Model Library:sh3f|P:Segmented Hyper-Graphic:shg|P:Shapes File:shp|P:Softimage Image File:si|P:MrSID Image / ScanIt Document:sid|P:Broderbund Sign / QuickTac SIG File:sig|P:Aurora Image:sim|P:arivis ImageCore File:sis|P:sK1 Vector Graphic File:sk1|P:ChemSketch Drawing:sk2|P:Sketch Drawing:sketch|P:Sketchpad Drawing File:sketchpad|P:Skitch Image:skitch|P:Maya Skeleton File:skl|P:SketchUp Materials File:skm|P:SketchUp Document:skp|P:Skype Emoticon Set File:skypeemoticonset|P:AutoCAD Slide File:sld|P:SolidWorks Sheet File:slddrt|P:Space Engine 3D Mesh File:sm|P:Valve Studiomdl Data File:smd|P:Serif Metafile:smf|P:Xionics SMP Image:smp|P:Snagit Stamp Archive:snagitstamps|P:Snagit Style Archive:snagstyles|P:OpenOffice.org Impress Bimap Styles File:sob|P:MikuMikuDance Sphere Mapping File:spa|P:Spectrum 512 Compressed Image:spc|P:WinSpec CCD Capture File:spe|P:MikuMikuDance Sphere Mapping File:sph|P:Still Picture Interchange File Format:spiff|P:Microsoft ICE Panorama Project:spj|P:Serif PhotoPlus Picture File:spp|P:Half-Life Sprite File:spr|P:Scratch Sprite File:sprite|P:Scratch 2.0 Sprite File:sprite2|P:Spectrum 512 Image:spu|P:Sun Raster Image File:sr|P:SmartSketch 95 Document:ssk|P:Shade to Manga Studio File:stc|P:Apache OpenOffice Drawing Template:std|P:Samsung IPOLIS Image File:ste|P:STEP 3D Model:step|P:Godot Engine StreamTexture File:stex|P:Genuine Fractals Image:stn|P:PRO100 3D Interior Design Project:sto|P:STEP 3D CAD File:stp|P:Sumo Paint Image:sumo|P:Sun Raster Graphic File:sun|P:Sun TAAC Image:suniff|P:Subtitle Bitmap File:sup|P:Manga Browser Comic File:sva|P:Simple Vector Format Graphic:svf|P:Scalable Vector Graphics File:svg|P:Compressed SVG File:svgz|P:StarView Metafile:svm|P:StarOffice Drawing:sxd|P:CyBook Thumbnail Image:t2b|P:Canfield Image File:t2k|P:Unreal Engine 3D Object File / Swift 3D Document:t3d|P:Sun TAAC Image File:taac|P:Targa Graphic:targa|P:Adobe Photoshop Thumbnail Cache File:tb0|P:Kodi Thumbnail Image:tbn|P:Techne Model File:tcn|P:3D Data Description File:tddd|P:Texture File:tex|P:Diesel Engine Game Texture File:texture|P:Unreal Engine 3 Texture File Cache:tfc|P:Tiled Group 4 Raster Image File:tg4|P:Terragen Object File:tgo|P:MakerBot Thing File:thing|P:Total 3D Home Design File:thl|P:Thumbnail Image File:thm|P:JAlbum Thumbnail File:thumb|P:Tiled JPEG File:tjp|P:The Logo Creator File:tlc|P:PlayStation 2 Graphic:tm2|P:PlayStation Game Model File:tmd|P:Bryce Time File:tme|P:3DCG Animation and Pose File:tmo|P:LG Phone Image:tn|P:Tiny Low Resolution Image:tn1|P:Tiny Medium Resolution Image:tn2|P:Tiny High Resolution Image:tn3|P:Manga Studio Tone File:tne|P:Atari Tiny Image:tny|P:TexMod Package File:tpf|P:TrueVision Bitmap Image:tpi|P:Canvas Template:tpl|P:Bryce Tree Shape File / TexturePacker Sprite Sheet File:tps|P:FaceGen Polygonal Model File / Triangle Mesh File:tri|P:Tiled Raster Interchange Format:trif|P:Rigs of Rods Truck Definition File:truck|P:VirtualBus Texture Description File:ts1|P:TIFF Simple Rare File:tsr|P:PaintShop Pro Picture Tube:tub|P:TV3D Model:tvm|P:Subsampled Raw YUV Image:u|P:Universal 3D File:u3d|P:Ulead File Object:ufo|P:Ultra Fractal File:ufr|P:Ulead GIF Animator File:uga|P:Ugoira Animated Image File:ugoira|P:Rune 3D Mesh File:ums|P:Panono Unstitched Panorama Format:upf|P:Utah Raster Toolkit File:urt|P:Windows 8 User Tile File:usertile-ms|P:Subsampled Raw YUV Image:v|P:Visual3D.NET Data File:v3d|P:Emergency 3 and 4 Model File:v3o|P:Vector Art 3D Model File:v3v|P:MikuMikuDance Accessory Settings File:vac|P:GIMP Parametric Brush File:vbr|P:CX-Designer Shape File:vec|P:Vue Vegetation file:veg|P:Vertex Shader File:vert|P:Sun TAAC Graphic File:vff|P:VICAR Image:vic|P:VICAR Image File:vicar|P:Visualization Image File Format:viff|P:World of Tanks 3D Model Surface File:visual|P:World of Tanks 3D Model Surface File:visual_processed|P:Vocaloid Motion Data File:vmd|P:Vector Markup Language File:vml|P:Virtools Media Object File:vmo|P:JVC JLIP Image:vna|P:Vue Objects File:vob|P:Voxlap Voxel Model File:vox|P:Vertex Program File:vp|P:MikuMikuDance Vocaloid Pose Data File:vpd|P:Photoshop Vanishing Point Export File:vpe|P:V-Ray Image File:vrimg|P:VRML Virtual World:vrl|P:VR Photo Image:vrphoto|P:Vertex Shader File:vs|P:Visio Drawing File:vsd|P:Visio Macro-Enabled Drawing:vsdm|P:Visio Drawing:vsdx|P:Vertex Shader File:vsh|P:Compiled Vertex Shader File:vso|P:Visio Stencil File:vss|P:Targa Bitmap Image / Visio Drawing Template:vst|P:Visio Macro-Enabled Drawing Template:vstm|P:Visio Drawing Template:vstx|P:Anim8or 3D Model:vtx|P:Vue Scene File:vue|P:Vivid 3D Scanner Element File:vvd|P:Adobe Shockwave 3D File:w3d|P:Webshots Picture File:wb0|P:Webshots Picture File:wb1|P:Webshots Picture File:wb2|P:Webshots Collection File:wbc|P:Webshots Picture File:wbd|P:Webshots Collection File:wbp|P:Webshots Download Picture File:wbz|P:Windows Media Photo File:wdp|P:WebP Image:webp|P:GTA 4 Car Model File:wft|P:Wavelet Image:wi|P:J Wavelet Image:wic|P:Windows Metafile:wmf|P:Windows Media Photo File:wmp|P:Compressed Windows Metafile:wmz|P:SparkMaker 3D Print File:wow|P:openCanvas 1.1 Image:wpb|P:openCanvas 1.1 Event File:wpe|P:WordPerfect Graphic File:wpg|P:Inkling Sketch Binary File:wpi|P:VRML World:wrl|P:Geomagic 3D Wrap File:wrp|P:Compressed VRML World File:wrz|P:Wavelet Image:wvl|P:DirectX Model File:x|P:Xara3D Project:x3d|P:3D Print File:x3g|P:3ds Max / Cal3D XML Animation File:xaf|P:Xara Xtreme Drawing:xar|P:GIMP Image File:xcf|P:Cal3D XML Mesh File:xmf|P:3ds Max XML Animation Map File:xmm|P:MindManager XML Map File:xmmap|P:Reality Lab 3D Image File:xof|P:Pro/ENGINEER Part Instance Accelerator File / Microsoft Expression Design Graphic:xpr|P:Cal3D XML Materials File:xrf|P:Cal3D XML Skeleton File:xsf|P:Softimage XSI 3D Image:xsi|P:Lattice XVL Structure File:xv0|P:X Windows Dump Image:xwd|P:Subsampled Raw YUV Image:y|P:Arts & Letters Clipart Library:yal|P:PowerFlip 3D Image File:yaodl|P:PowerFlip YAODL 3D Image File:ydl|P:YouiDraw Drawing Project:ydr|P:BYOB Sprite File:ysp|P:YUV Encoded Image File:yuv|P:ZModeler 3D File:z3d|P:Zenographics Image File:zgm|P:Zooming / Zoomify Image Format File:zif|P:Mental Ray Image Depth File:zt|P:Zeiss Vision Image:zvi
more importantly: even if you have a very special picture type that is not listed and needs to be found, you can also easily add it through the "Add..." button on above interface.

Try our finding duplicate images app now!