Duplicate File Finder Mini (100% FREE) - Finds the Duplicate Files Just by One Click

Download v3.1 for PC, 476 KB, Updated @ Apr 15, 2014

Donate

Recommend

Usage
Related Products

1Tree Basic

1Tree Pro
---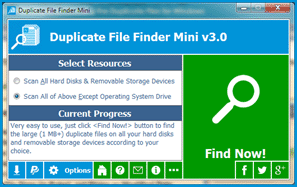 Key Features
Finds Out the Large (1 MB+) Duplicate Files
Very Fast: One minute Per 300 GB Files
Very Easy to Use, Only Need 1 Click to Get Result
Save / Load the Result (Duplicate Files)
Helpful Options: If Scan System/Hidden Files, Excluding Paths
Invert Checks: Operating the Result Easily
Fast Filter: Quickly Filter the Duplicate Files by Size
Marks the Adjacent Duplicate File Groups by Different Colors
Sorts Result by Size in Descending Order
Comparing File Sizes (in Bytes), not Name or Modified Date
Description
Duplicate File Finder Mini
is a 100% freeware that used to fast find and delete the large (1 MB+) duplicate files on all your hard disks and removable storage devices, so as to recover your valuable disk space.
It works very fast, usually, doing a fully finding only spend tens of seconds depending on the size of your drives (about one minute per 300 GB files). Besides, it is also very easy to use, only need to click the "Find Now!" button to get your want.
After done a finding, it will show the result instantly: sorting by size in descending, marking the adjacent duplicate file groups by different colors, showing the name, path, size (MB), type, date modified of all files. In order to let you operating the duplicate files conveniently.
And you can do some common actions for the checked duplicate files / highlighted file in the result listing, such as Save, Load, Move to Recycle Bin, Delete, Open/Run, Open File Location, Uncheck All, Invert Checks and Show Properties. Also, it provides you with some useful options to control the scanning sources and compared result, such as if do NOT scan the system / hidden files and exclude the system / special folders.
Please note that it is not only used to save your disk space, but also reduce the management costs and avoid the unnecessary confusion via found and abandoned the redundant duplicate files.
At last, there are two things you need to know: 1. it only scans the files with the large size (reach 1 MB), because the average PC users do not care about the small files, and the small files can only recover a small amount of disk space. 2. The Mini edition compares files based on the size (in bytes), not file name or last modified date. And it does not compare the file contents, however, for the large files, it can ensure the most duplicate files are right, but not 100%, so, please carefully remove the very small part of the uncertainty duplicate files.
---
Softpedia's Review
This lightweight application delivers a simple approach to identifying and deleting large duplicate files in order to gain valuable space
Duplicate File Finder Mini is a handy and reliable application designed to scan, detect and remove everything that has a copy from your system.
Duplicate File Finder Mini is aimed at identifying duplicates larger than 1 MB. The results are sorted by file size, so you can have a clear overview of what's taking the most space on your computer.
Support Duplicate File Finder Mini (100% FREE)
Duplicate File Finder Mini is 100% Freeware, if you think it is good, it's welcome for you to support it by
Making Donation
, Writing Article or Comment,
Recommending to Friend
and Linking to Your website.
Link Code

100% Freeware, FREE download v3.1 for Windows®, 476 KB, updated at Apr 15, 2014.
Update History
Version
Release/Update Date
New Features
Bug Fixes
3.1
Apr 15, 2014

Displays the statistics of the checked files.
Supports to highlight the selected group.
Supports to open/run the highlighted file by a friendlier way: double-click.
Optimized some interface texts, especially, the singular and plural, e.g. file/files, folder/folders, byte/bytes, group/groups, second/seconds, minute/minutes, and so on.

3.0
Dec 03, 2013

Supports to save / load the result.
Adds the result filter (by size).
New user interface, more beautiful and friendlier.
Added option: Anyway, do NOT scan the system files (yes/no).
Added option: Anyway, do NOT scan the hidden files (yes/no).
Added option: Anyway, do NOT scan the following system / special folders. The default setting contains Windows, Program Files and Application Data for All Users / Current User folders, and more.
Supports to invert checks. Now, you can only check one file for all groups, and then click <Invert> button to check all other files (only retain one file for all groups).
Provides more statistics on the result interface, such as scanned files/folders/drives counts and size, the found files/groups counts and size, spent (seconds or minutes) and filtered files/groups counts and size.
Optimized the prompt displaying algorithm to get the faster scanning and comparing speeds.
Optimized the "Open/Run", "Open Location" and "Display Properties" actions: only for the highlighted file, not all checked files.
Does not need your confirmation for every file, only asks one time (with file counts) for all unwanted duplicate files before deleting.
Uses the intelligent unit and decimal for file sizes and spent times.
Uses the thousands separator to display all numbers.
If it is finding duplicate files currently, it will show the prompt when you exit this program.
Does not allow you to change the search conditions during finding.
Prompts you to save the result when close the unsaved result window.
The more reasonable size categories.
Adds the following prompt to the result interface: It sorts the result by file size in descending and displays the two adjacent groups in different color, in order to help you to locate the larger unwanted files. By default, it does not check any file, please manually check the unwanted duplicate files for deleting. Please retain one file for a group at least, unless you are sure that all files in this group are unwanted.
Moved all actions which need to run the default email client to the online webpages, in order to avoid the confusion if who has not a default email client.
Asks you to know the detail of Plus edition when the result shows.
Does not display the grid in the result list.
Optimized its official webpage.

Sometimes, it does not set the colors for the adjacent groups properly after delete all files under a group.
A little wrong/unsuitable text.
2.0
Oct 04, 2013

Adds "Find Us on facebook/Twitter/Google+" functions.
Adds "View All Duplicate File Finder Products" and "View Company Homepage" functions.
Activates the browser after opened a webpage.
Optimized the product logo.
Optimized the definition of software icons.
Reduced the installer size.

1.2
Jan 08, 2013

Publish as freeware.
Optimized performance: does all processes in the memory to make the speed increased more than 20 times.
Optimized the interface and documentation.
Can display the spent time on the result interface.
Added function: Show Properties for the checked duplicate files.
Added option: check system drive or not.

1.1
Sep 27, 2007

Added the following functions to the Result interface: Move to Recycle Bin, Uncheck All.

1.0
Oct 11, 2004

100% Freeware, FREE download v3.1 for Windows®, 476 KB, updated at Apr 15, 2014.
Usage
As you see, it is very easy to use, just click the <Find Now!> button to get the result (large duplicate files) with fast speed.
Once done, the result will be shown automatically, and you can do some actions by clicking the toolbar buttons or the context menu items for the checked duplicate files / highlighted file. All the toolbar commands have tooltips and shortcut keys.
All things are very simple, just try it, and it is 100% FREE.
There are two things should be noted:
As you see, on the start interface, the "Scan All Hard Disks & Removable Storage Devices Except Operating System Drive" option is selected by default. Why? Because: 1. System drive already has some duplicate files by default, such as some DLL files. 2. Mistakenly deleted the files in system drive may cause the Operating System or some software cannot work properly.
So, even you scanned system drive, we still recommend you do not delete the duplicate system files (such as .DLL, .EXE, .OCX), except these files are not located in the system folders (such as Program Files, Windows, Application Data).
There are a few hidden shortcuts on the Result interface: <Space/Double-click> - check/uncheck current row; <Enter> - open/run the file of current item. These are just the Windows operating habits.
Here are some important operations, FYI.
Load Result (*.D2FM) on the Start Interface
Click the <Load> blue button (bottom left, first).
Set Finding Options (About Hidden / System Files, Excluding System / Special Folders)
Click the <Options> blue button (bottom left, third).
Only Retain One File for All Duplicate Groups (Delete All Others)
Check the needful file for each group, and then click the <Invert> button to invert the checks, at last, click the <Delete> button to delete all other unwanted files.
Tips:
you may need to change the filter to see fewer files.

100% Freeware, FREE download v3.1 for Windows®, 476 KB, updated at Apr 15, 2014.
Screenshots
Note: please click the thumbnail to see the full screenshot.
| | | |
| --- | --- | --- |
| Start Interface | Finding Interface | Result Interface |
| Options Interface | About Interface | |
Recommend It to Friends
1. Easy Way
Just click the related buttons on the right to share it to facebook, Twitter, Google+, etc.
2. Manual Sharing
You can also manually share it by using the following text in your email or other places.
Subject:
Recommend 100% FREE software - Duplicate File Finder Mini: Quick Find Duplicate Files by 1 Click (from 'your name here')
Content:
Hi,

I'm using Duplicate File Finder Mini, it is used to find and delete the large (1 MB+) duplicate files on your hard disks and removable storage devices, so as to recover the valuable disk space. It works very fast (about 1 minute per 300 GB files).

You should have a test!

Official page: http://DuplicateFileFinder4PC.com/duplicate-file-finder-free.htm
Direct download: http://DuplicateFileFinder4PC.com/f/duplicate-file-finder-mini.zip