You may want to know about how to remove duplicate files from your PC (hard drives), in order to free your disk space and save the management cost.
If so, you are in the right pace.
As you think, it's very hard to manually finish, because you cannot find out the duplicate files from millions of files on your PC.
So, you need a software to remove duplicate files from your PC.
Here I will recommend you a good one:
Duplicate File Finder Plus
(D2FP): precise, fast and small!
First, click the following button to get it:

Download D2FP to Remove Duplicate Files from My PC!

After installed and ran it, D2FP will guide to the duplicate files scan interface: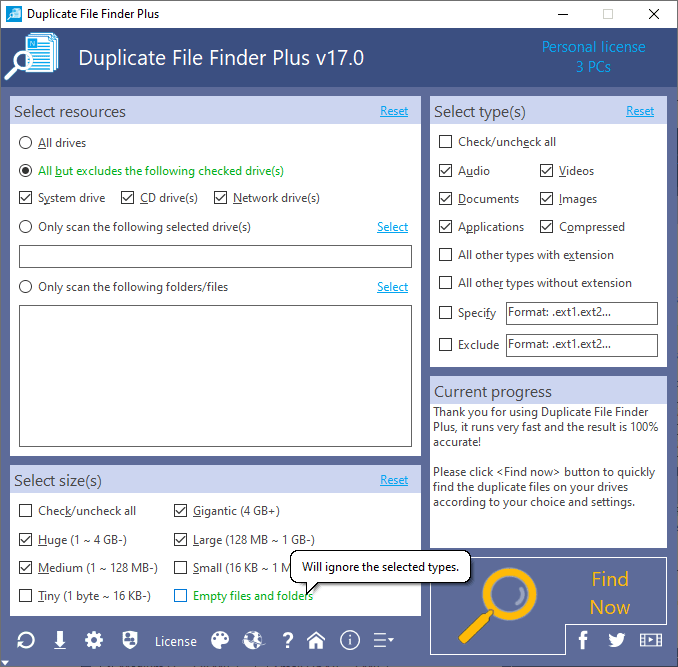 Specify your scan conditions or just use the default settings, and simply click <Find Now!> button, it will scan the duplicate files under your specified conditions.
Once done, D2FP will show the duplicate files instantly: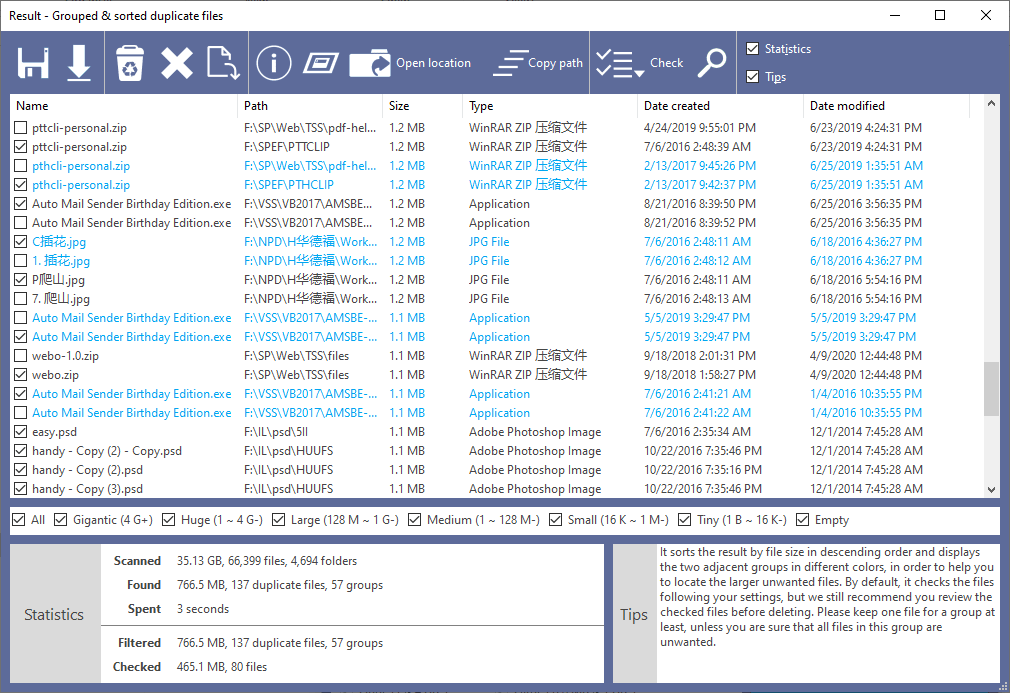 As above, just check the duplicate files that you want to remove, and then click <Delete> button to permanently remove them, or click <Move to Recycle Bin> button to remove them to system Recycle Bin temporarily.
Please note that here is a very useful "Filter", you can filter the result by file size via check/uncheck Gigantic, Huge, Large, Medium, Small and Tiny options. The size scope for each option can be found at above scan interface.
I suggest you only check one option to get a small list of duplicate files, and check them one by one from big to small, until there are no duplicate files need to remove.
For instance: uncheck "All" option first, and only check Gigantic, remove duplicate files. Uncheck "Gigantic" and check "Huge", do removing. Uncheck "Huge" and check "Large", removing...
This is not all, the result interface also provides you with a statistics your duplicate files, about the number, size and spent time of scanned, found, spent, filtered and checked duplicate files.
Also, the duplicate files list is very easy to use: click any duplicate file, D2FP will show the grey background for whole duplicate files group, in order to let you quickly know about which duplicate files are in one group (100% duplicate). And D2FP uses the different colors for the adjacent groups, in order to avoid confusion.
As above review, I think you already know about how to remove duplicate files from your PC. To start this work, simply click below button to get D2FP:

Download D2FP to Remove Duplicate Files on PC!

Also, you can visit it's homepage to
find duplicate files
now!
See Also