Maybe you have been applying the duplicate file detector for a long time, but I believe there are still some functions that you have not realized, such as the versatile toolbar of the best duplicate finder.
In the past, I mentioned the <Save>, the <Load>, the <Uncheck All>, and the <Invert>, belonged to the series about how to manage duplicate files, photos and audios. Today, I am going to talk about other features in this toolbar. If you still don't know how to make use of the function I mentioned from the duplicate file detector right now, you are really not keeping up with the times. I believe you all are familiar with the interface below.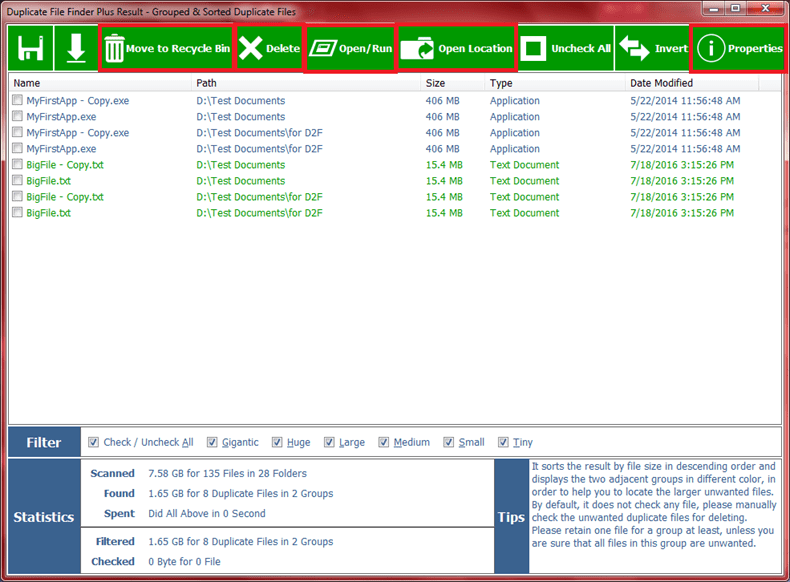 Screenshot: best duplicate file cleaner utility.
There are five features signaled by red box, I will introduce them one by one in detail for you.
Move to Recycle Bin and Delete in the Duplicates Finder
Move to Recycle Bin is different from Delete completely, the former will move the files checked into Recycle Bin but you can restore them whenever you want to, unless you didn't Empty Recycle Bin or Delete them in Recycle Bin. But the latter would make you lost them permanently, so confirm that decision carefully before using this button.
Open/Run, Open Location and Properties in the Duplicates Finders
Open/Run, Open Location and Properties need you to select the low into highlighted but not check it. It will run or open directly instead of finding the path of file to do that. It's equally suitable for Properties, you can view the information about the file.
You can achieve the same effect all features of the above by means of pressing the combination key, at the result interface of the duplicates finder, once the icons of features are hovered, additional information is provided.
I'm sorry to say that the trial version of the best duplicate finder is limited by deleting one file once, but you can order the full version on the homepage of
Duplicate File Finder
Plus.

Free Download Our Duplicate Finder Program to Find & Remove Rubbish Now!

See Also