Since we are perfectly clear about how to use the four duplicate files searchers, now, we are going to explore the differences among them.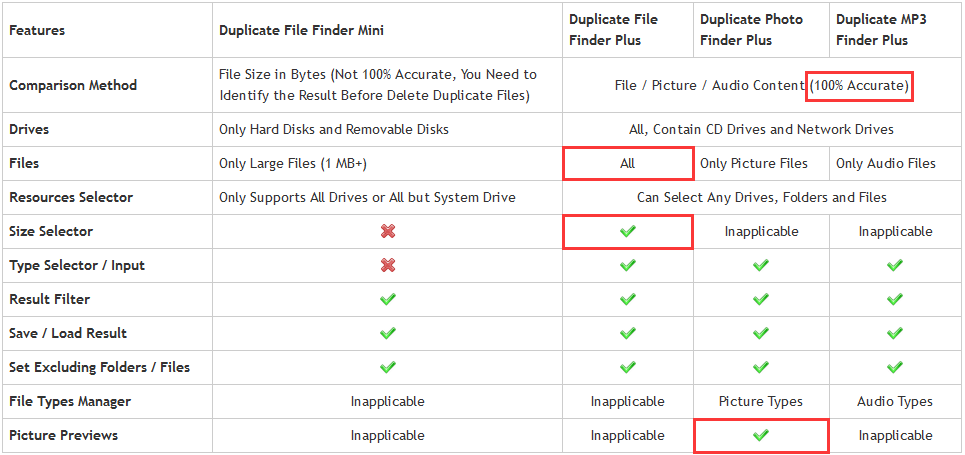 Screenshot: list of differences about the four duplicate files searchers for PC.
Different Comparison Methods among the Four Duplicate Files Cleaners
Take a glance at the screenshot briefly, we can easily find that Duplicate File Finder Mini is entirely different from the other three duplicate files searchers, the former compare files by their size in bytes, so, obviously, it's not accurate 100% and you need to identify the result carefully before you are going to delete duplicate files, this should be kept in mind. The other three duplicate files cleaners are 100% accurate as their comparison method based on content. Due to its smart, the Mini is limited in other functions, it scans only in hard disks and removable disks, large files ( 1MB+ ) and support all drives or all but system drive, but Size Selector is not accessible together with Type Selector/Input.
Specific Differences among the Last Three Duplicate Files Cleaners
Comparatively, the function of the other three duplicate files cleaners is more complete. Not only they scan in all drives( contain CD drives and network drives ) , but also you can select any drive, folder or files. While DPFP and DMFP only focus on picture files and audio files respectively, D2FP scans all types of files, and it owns the feature of size selector,which you can limit the size of files before scanning them, so this duplicate files deleter program is more powerful. However, it does not mean that you can't limit the size of pictures and audios by DPFP, DMFP, you can also conduct the same operation just after scanning done, we name it Filter. They all have the function of Type Selector/Input, Save/Load Result, Set Excluding Folders/Files.
Two Slight Distinctions between DPFP and DMFP
At last, let's to compare the last two functions in these different duplicate files searchers– File Types Manager and Picture Preview, the Mini do not own any one of them, neither do D2FP. Obviously, DPFP could manage types of picture as DMFP to audios. One point is also worth noticing is that ,we add the Picture Previews into DPFP (click here to know about it), and the Preview function of MP3 is expected to appear in the next version.
What is also worth noticing is that: only one you can
remove duplicate files
at a time, but you can order the full version on the homepage of Duplicate Files Deleter tool.

Download Our Duplicate Files Deleter to Clean the Duplicated File Now!

See Also